Watch
Ian Hanomansing talks to former Heavyweight Champion Evander Holyfield about Mike Tyson, head injuries and bullying.
5 tags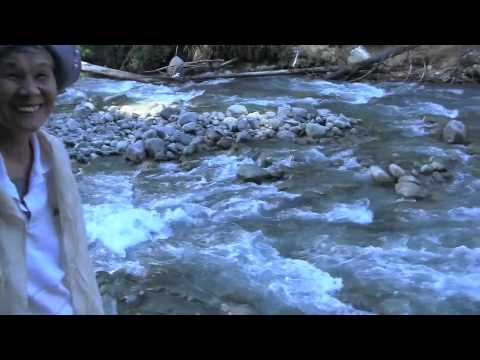 6 tags
High costs for civic pride.
On November 19th, 3 out of 10 of you are going to head to the local polling station and cast a ballot for the municipal election.  Whether you are choosing a Mayor, Councillor, School trustee or Parks Board candidate, you will be giving these people the power to affect your lives on a daily basis.  Garbage collection, school budgets, property taxes, transit, community centres, libraries, park,...
Occupy Vancouver
I don't know why I went to the Art Gallery today.  Equipped with my video camera, I hopped on the SkyTrain and started checking my Twitter for anything related to #occupyvancouver. It started at 10 a.m. and before lunch, thousands had congregated on the north side of the Vancouver Art Gallery.  Using the steps as a stage, a committee of organizers facilitated the event using an array of hand...
Giving thanks at the water park.
Growing up, I was fortunate to have both sides of my family live within 30 kms.  There were no highly anticipated reunions or week-long camping trips simple because it wasn't necessary.  My Uncles and Aunt married their high school sweethearts and all found homes walking distance from where they grew up.   Uncle Steve would drop by unexpectedly at least once a week, my Auntie Anna would take Adam...
What's your hobby?
Life is made enjoyable by the simple pleasures.  Whether it be flying a kite, collecting stamps, riding your bicycle on a sunny afternoon or travelling, all of these activities enliven our lives and provide us leisure and relaxation. Aside from travelling, it is hard to pinpoint anything that I practice or enjoy fervently.  This wasn't always the case.  Before heading to university, my life was...
One Month Later.
It's always strange when I come back home after a prolonged period away.  Travelling through new countries and experiencing cultures changes the way I see the world and causes me to reevaluate my place within it.  I always fail to realize that while I may be a changed man, the environment I am returning to is essentially unaltered. After spending a year teaching English in Japan, I returned to...
NDP Conundrum
Even as Jack Layton was laid to rest, speculation ran rampant about who will succeed him as the leader of the federal New Democratic Party. His sudden death left no heir apparent, but two frontrunnners have emerged in recent weeks: Party President Brian Topp and Deputy Leader Thomas Mulclair. While Topp has no political experience within Parliament, he was integral in the NDP breakthrough this...
Lingering Thoughts.
Sitting in Osaka airport with an hour and a half to spare before I board my flight that will bring me home after over a year abroad.  I returned to Japan last night after spending three weeks in Thailand.  Ogino San and Kotani San, my previously mentioned adoptive grandparents, picked me up from the train station, took me out for sushi and back to her house to retrieve my bags and sleep a couple...
10 years.
In March 2001, I travelled to New York with my Auntie Anna as she accompanied a class of her students from Port Moody Senior High School to a United Nations youth conference.  I remember standing atop the World Trade Centre and peering down on the city as though it were a hot wheels set.  Even with this engrained memory, I still struggle to comprehend the magnitude of destruction unleashed 10...
Year in Review
I've tried as best as I could to document my time in Japan. Despite my efforts, I will never be able to effectively replicate my experience. When people ask me how my trip was, I am unsure how I should encapsulate my time abroad. I was talking to a friend last month about my relationship with Ogino San and somehow transitioned into talking about Tokyo. He told me he didn't care about Tokyo, but...
Jack Layton: Nation Builder
There are few figures in our country who are unilaterally held in high esteem, regardless of their political stripes.  Jack Layton was one of them.  His passing has brought about a definitive moment within the NDP and their response to Canada's loss will determine their standing and role within Canada's political landscape.  While the back room orchestrators adapt to the prevailing conditions,...
The end.
It's my last night in Japan. Tomorrow, I head to Thailand for three weeks before my long anticipated return to Vancouver. After twelve months in the Land of the Rising Sun, it is time to return home. While I am looking forward to ordering food and receiving exactly what I envisioned, there are many things and people whom I will miss dearly. When I arrived in Tamba last year, I did not know many...
What makes a Canadian?
A special thanks to all of the people that wished Canada a Happy Birthday earlier this week. If not for their status updates, how could anyone expect to remember our country's most important holiday? These updates were almost as useful as people who use Facebook to send their condolences to their deceased pets, but I will save that subject for another time. Canada turned 144 this past Friday. I...
Shame
I avoided the internet all day yesterday.  I had planned to download the game and watch it uninterrupted but the server was overloaded.  Instead, I took a nap.  I was awoken a couple of hours later by a phone call from Kathy asking me if I had watched the game. "Don't ruin it for me," I pleaded. Eventually, she convinced me to check the news.  The images strewn across my screen shocked and...
Game 7.
It all comes down to one game. On Wednesday night, people from across British Columbia will congregate downtown and wait on baited breath until the puck drops for the seventh and deciding game of the Stanley Cup Finals.    While the Vancouver Olympics may have been the biggest event our country has hosted, this is the most meaningful game in this city's history.  Win or lose, this game will...
Working hard or hardly working
The Japanese are notoriously known for their strong work ethic and commitment to their jobs.  Logging long hours and rarely taking vacation, they were the backbone for Japan's stunning resurgence after World War II and the reason they quickly became the world's second largest economy.  In Japan, jobs are not merely a source of income, but a vital component of personal identity.   Companies adopt...
Mirrored Rises
Vancouver has supplanted Toronto as Canada's city. Over the past year, Vancouver has become a fixture on the international stage and gained notoriety throughout the world after playing host to the 2010 Winter Olympics. And now, with the advent of the Vancouver Canucks, we have earned the disdain of Canadians. Jealousy and grudging admiration, two components necessary to become number...
What About Stephane?
This past election has  shown that Canada has become increasingly politically polarized, with most voters opting out of the center to opposing sides of the spectrum.  The Liberals suffered catastrophic losses; once considered Canada's natural governing party, they have become shadows of their former selves.  Michael Ignatieff resigned the morning after the election, relinquishing power of the...
Iggy and Bob the Rebuilder
The Federal Liberal Party has just appointed Bob Rae, their fifth leader in 11 years.  Many political pundits  say the decision was long overdue and that Mr. Rae should have succeeded or at least been given the chance to compete for the leadership when Stephane Dion resigned in 2008.  Hindsight being 20/20, Ignatieff's time at the helm may have been ill-fated from the beginning, an ex-patriot...
Break and Enter
While I was talking to Kathy on Skype this evening, I heard jostling at the door.  I slowly walked to the entrance and watched the door handle wiggle for a few more seconds before I began banging on the door, hoping to scare the person off.  Living in the countryside, my doorbell rarely rang so I was startled to say the least.  After a few more seconds, I thrust the door open to find Ogino San...
All Out.
Since the middle of March, I have tried to contribute to this blog as much as possible.  After graduating from university, my writing essentially came to a halt, save for the occasional journal stint whenever something compelling occurred.  Looking back on my choice to study journalism, I question my motives and logic.  I remember my first lecture way back  in first year, the professor asked...
Watch